Hi there, I'm Iris
I'm an Acro Yoga teacher, and I would love to share that passion with you. 
A bit about me
I am a Danish girl and live in Copenhagen. I love reading about all things health and happiness related, especially movement, mindfulness and nutrition. Yes, you guessed it – one of my biggest passions is Acro Yoga...but besides that I have a M.Sc. in biotechnology. I would love to one day combine those two interests and work within Scientific Communication or Research within movement/exercise in relation to preventing or ameliorating diseases such as diabetes or cancer.
As you can probably already tell by now, I have always been a bit geeky and been diving into whatever I do head first.
So of course, with Acro Yoga it was no different. I have practiced Acro Yoga for almost five years, and honestly, it has changed my life. Combining this with my ever-present enthusiasm for sharing knowledge, it was almost inevitable that I started teaching. By now, I have been teaching Acro Yoga for three years, and am a certified teacher from 'Partner Acrobatics'.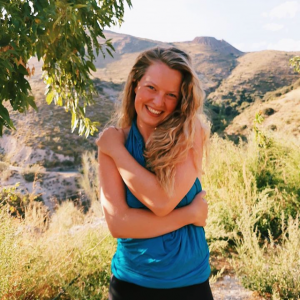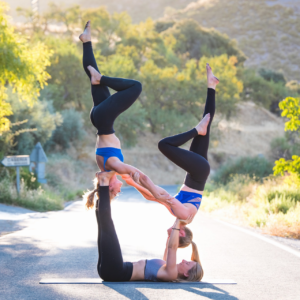 What is Acro Yoga to me?
Acro Yoga for me, is a wonderful way to build a community because it creates a space for play and teamwork. As a teacher I enjoy sharing my passion for Acro Yoga and to experience the excitement and laughs of the participants both during success experiences but also when they struggle together.
I love Acro Yoga because it involves many diverse movement patterns. It is wonderful to feel strong as a base and at the same time light and flexible as a flyer. Additionally, you are challenged by balance, communication and building trust so that you don't even realise that you are "exercising". When I practise Acro myself, I love to get nerdy about flows until they become fluent and the movement of both base and flyer come together.
Now enough about me!
As Acro Yoga is a partner activity, it is rarely taught alone. Below you can find the amazing women I teach with. . .