Danish Acroyoga Festival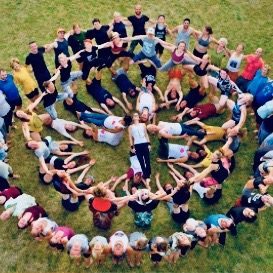 We are happy to invite you to the Danish Acroygoa Festival! Expect new friendships, music, singing, swimming, sauna, yoga, acrobatics, delicious food and lovely surroundings.
Sign-up here!
You can follow the latest news about the festival on the Facebook event.
When and where?
Full experience: 9th to 15th July (chosen by most)
First retreat 9th to 12th July.
Second retreat 12th to 15th July.
The Festival is located in the beautiful Ingeborg cabin in Frederikssund (an hour from Copenhagen), with views over the water, access to a beach, plenty of indoor and outdoor space.
Adress: Svanevej 20, Store Havelse Strand, 3310 Ølsted
Price – Early bird prices (until 8th May)
Full experience: 4000 DKK / 550 EUR
One retreat: 2400 DKK / 320 EUR
For a bed in the dorm: +200 DKK / 30 EUR
Teachers 
The teaching team is a mix of the strong Danish teaching core and international teachers.
Confirmed teachers are:
Julie Hendel (Hendel&Hunter Acroyoga)
Peter Hunter (Hendel&Hunter Acroyoga)
Sytske Riphagen (Sytske)
Trevor Baxtor (Trevor)
Matteo Bagaz (Acrobagaz)
Campana Lorenzo (acro_bell)
Eva Junge (Ev_junge)
Camilla Mia (Yoga and Acro with Camilla)
Iris Weidema (About page or Acroyoga with Iris)
Julia Nørh (Julia)
Nicolas Sibani (nicolastheacroholic)
Tatjana Felt (tatjanatfelt)
Level
Both retreats are for acroyogis with some experience. In all acroyoga workshops you will be able to choose between an advanced level or intermediate level workshop, depending on your preferences and experience level.
The prerequisites for attending this retreat are:
– having attended at least 15 classes before.
– both fly AND base 30 seconds of Star, Side Star and Shoulder Stand.
– 30 second handstand against a wall.
Food 
At the Festival there will be served the most delicious and nourish vegan food by none other that Anna Sofie (@Artistkok). We promise you that her food alone is enough of a reason to attend the festival.



Accommodation/Sleeping arrangements
At the festival most people choose to bring their own tent and camp on the big grass area.
There is also an option to have a bed in a dormitory or in a private room (choose upon booking you ticket). Please contact us if you have any questions.
The Organisers
Iris and Emil are the organisers of this retreat, both are central figures in the Copenhagen acroyoga community. Emil is known for his positive and calm attitude. Iris is know for her enthusiasm and dedication. Together we will ensure an unforgettable retreat for you.
We really look forward to this holiday with you all!