Danish New Years Retreat 
Sign-up link and price
This New Year's Retreat 21/22 is fully booked, but consider joining one of our summer retreats 9th-16th July. Sign up for the summe retreat starts 1th of May 2o21. If you want to secure a spot then sign up on the facebook event and get the sign-up link 24 hours before everyone else! 
What is special about the New Years retreat?
– Lots of fairy lights and cosy indoor time
– The New Years party (se below) 
What happen New Years eve?
– New Years party with three course dinner
– Danish tradition of watching the Queens speech and "90 års fødselsdag"
– Beers and Alcohol free drinks
– Possibility of acro jam and dancing
– Games and/or surprise workshop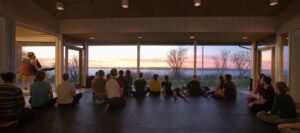 Teachers
The teachers at the 21/22 retreat are the following:
Peter Hunter (Acroyoga and morning class)
Tuk Frederiksen (Standing acrobatics)
Kasper Moritz & Marie Pallis (Acroyoga)
Eva Junge (Acroyoga)
Iris Weidema (Acroyoga)
Emil Ingemann (Acroyoga)
Nicolas Sibani (Acroyoga and Therapeutics)
Julia Nørh (Therapeutics and morning class)
Christina Buch (Therapeutics and morning class)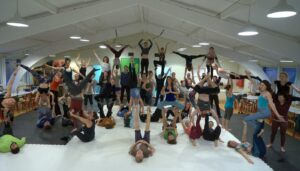 What to bring? 
– Clothes
– Sports wear 
– A fabulous (and maybe Acro friendly) party outfit 
– Cozy clothes for the evenings
– Possibly a bathing suit for the sauna
– Bed sheets and sleeping bag (or duvet and duvet covers)
– A towel (e.g. bring an extra for the sauna) 
– Toiletries (deodorant ect.) 
– A yoga mat if you tend to slide on the puzzle mats for morning yoga classes